ERWIN MADRID, ILLUSTRATOR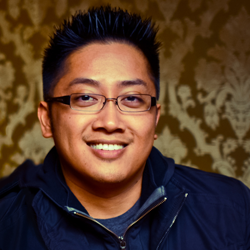 A Message from the Illustrator
As a children's book illustrator, it's always a pleasure to be able to create imaginative worlds for beautifully written books that inspire kids to pursue their dreams and educate them about life lessons. It was an honor and a pleasure to work with Tiffany on My Yellow Balloon because of the complicated and important message that the book explains with grace.
Erwin Madrid was born in the Philippines and grew up in San Jose, California. He earned his BFA in Illustration from the Academy of Art College in San Francisco, CA. During his last semester of college, Erwin was hired by PDI/DreamWorks Animation where he contributed production illustrations for the animated feature film, Shrek 2. He later became a visual development artist for the Shrek and Madagascar franchise and MegaMind. Erwin has also done conceptual art for the video game industry for titles like Uncharted: Drake's Fortune. He now works full time as a children's book illustrator. Learn more about Erwin at erwinmadrid.blogspot.com
Winner of the Moonbeam Children's Book Award for best illustrations
Book award contest recognizing the year's best children's books; celebrating youthful curiosity and discovery through books and reading.